Blackwater Community School-Akimel O'Otham Pee Posh Charter School Inc.
Leadership Team's Belief....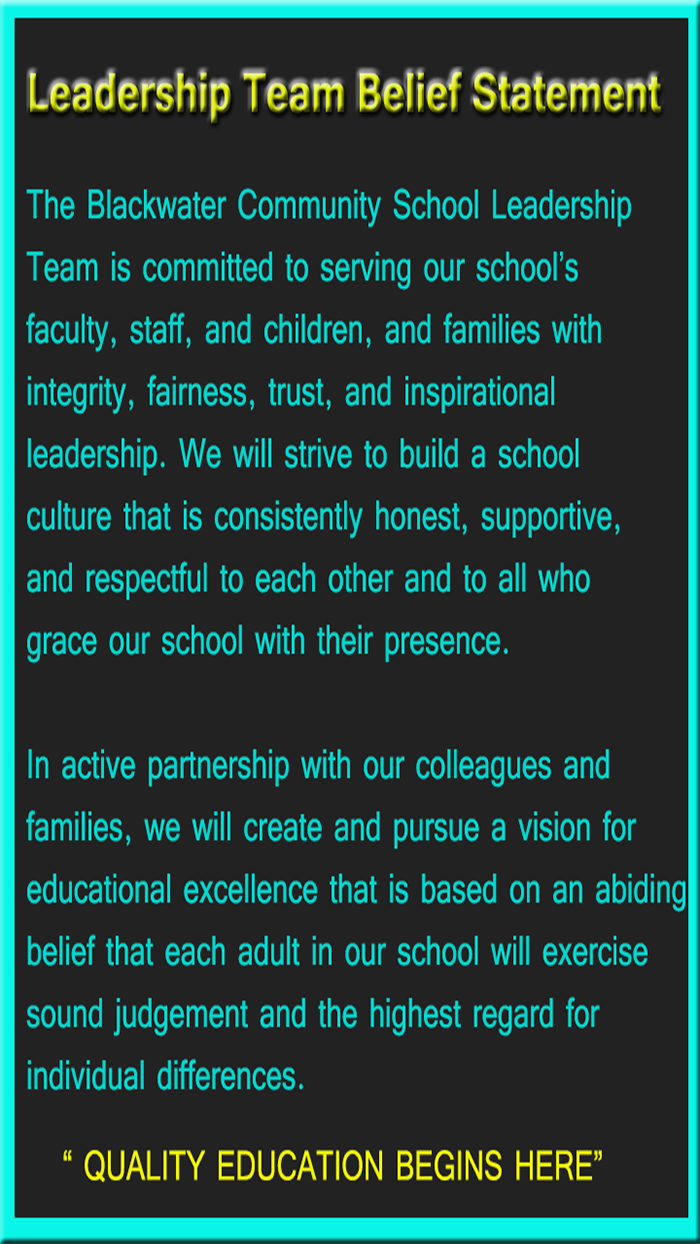 "We believe in teaching the Whole Child"
Title I Parental Involvement at Our School... (download a copy of the Policy for SY 2019-20)
Our Mission Statement: "Quality Education Begins Here"
Goals of our Title I Program:
•Increase academic achievement for ALL students
•Provide Quality, timely and effective professional development to our staff
•Promote parental engagement
A Title I school means we receive funding to supplement the school's existing programs. These dollars are used for:
•Identifying students experiencing academic difficulties and providing timely assistance to help these students meet the State's challenging content standards.
•Purchasing supplemental staff/programs/materials/supplies
•Conducting Parental Involvement Meetings/Trainings/Activities
•Recruiting/Hiring/Retaining Highly Qualified Teachers
Requirements of a Title I School
•At least 40% low income student population
•Conduct a Comprehensive Needs Assessment (Strengths and Priority Areas to Improve)
• Design and implement a Continuous School Improvement Plan
•Conduct an annual evaluation of the effectiveness of the Schoolwide Program
Parental Support....
Parents/Guardians.., Just as you count on our school, we count on you for your continuing support..There is plenty of research indicating when parents are involved students have:
•Higher grades, test scores, and graduation rates
•Better school attendance
•Increased motivation, better self-esteem

We invite you to ask your child's teacher what you can do to help support your child's education! You may also visit with the school principal to receive more information on how you can contribute to the success of all BWCS Eagles !
WE APPRECIATE YOU! WE NEED YOU!
Please Contact School at (520)215-5859 to:
•Ask for meetings and trainings
•Review the results of the annual parent involvement effectiveness survey
•Make suggestions for Title I funding
•Review the school's achievement data
•Attend parent involvement events throughout the school year
Our School curriculum is aligned to the Arizona Standards. Title I Research-Based Assessment System lends itself to a data-based decision making process, high quality professional development, and the implementation of research- based instructional strategies to ensure the academic achievement of all children. Title I also requires that instruction be provided by highly qualified staff and that strategies are included to increase parental involvement.
Parents' Right to Know...
Dear Parents/Guardians
Blackwater Community School and its offcials have been working very closely with the Gila River Health Care Department (GRHC), Office of Emergency and Management, Tribal Education department and Honorable Governor Lewis' office. Our school is currently closed and is expected to resumeon March 23rd, 2020 contingent upon the Board and Tribal government's decision. Administrative Team will be on-site Monday-Thursday during the Spring break and will be involved in making sure the classrooms and other buildings are cleaned and the most-touched spots are deep cleaned.
Should there be a decision to close the school, we will make extra efforts to notify all our parents and guardians through Robo-phone calls, School website, and school FACE BOOK site. Please check our Website frequently. Please click on the following important links to learn more about how to help our children and community members:
Gila River COVID-19 HotLine: (520)550-6079